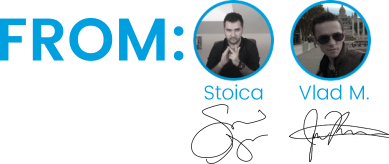 Our Story
Everything started 12 years ago, when we had our first contact with Internet Marketing while working as freelancers.
As everyone else, we started with SEO, but we quickly discovered YouTube and we found our TRUE LOVE.
App Development

80%

80%

Internet Marketing

60%

60%

Brand Strategy

50%

50%

Customer Happiness

90%

90%
Thanks to YouTube traffic we made our business in to a real success story
We have released over 14 Software tools that we are using on daily basis to help grow your YouTube channel and get increased exposure and views for your videos.
What makes us different from the other "marketers" is that we care about our customers. We offer top support and we release constant updates for all our software products.
The Guys Behind The Company
Many of the people Vlad and Stoica have helped with Internet marketing have gone on to have incredible success in a very short amount of time after working with them.
Many of them are now full time YouTube creators working full-time with their new businesses.
Vlad and Stoica believe in continued learning and makes every attempt to stay on the cutting edge by studying the latest books, courses, and systems on the subject of marketing and video conversions.
Vlad and Stoica are knows as the go-to-guys when it comes to YouTube Marketing.
Helping small businesses with their marketing campaigns and they started to teach their students how to help local businesses and profit from the immense opportunity.